Royalty Free Stock Photography, Music, Sound Effects, Clip-Art, Fonts, and Drawings for Your Websites and Videos
I know it can be frustrating sometimes when you are trying to find the perfect picture for your post or whatever the case may be, and you don't want to spend a lot of money on stock photography. Stock photos only cost a few dollars or sometimes less, but it can add up.
There is also the matter of finding music for your videos without violating copyrights.
I've gathered together some free and inexpensive sources of photos, music, and whatnot, which can legally be used on your projects online.
Before I go into the 100% free sources, I want to put a plug in for a recent collection I came across and eventually purchased. It it is called the Web Media Toolkit.
Here is a basic rundown of what is contained in this collection:
4719 Stock Photos
7048 Clip-art Images
1,500 Classic Pen and Ink Illustrations
1,200 Web-ready Business icons
7,387 Designer Fonts
75 Royalty-Free Music Tracks
101 Podcast Intros and Outros
2,500 Professional Sound Effects
Total: 24,530 Web Media Elements.
This entire collection costs $47 – which really is a phenomenally low price, considering that it averages to just under 1/5 of a penny for each media element. I wouldn't be surprised if it is the lowest priced media collection on the market.
I hemmed and hawed for a while before I purchased it (because I hem and haw before I purchase anything) but in the end I was really glad that I did. The only problem I have had is that the collection is so huge I have not been able to download everything yet (due to my fabulous internet connection over here). The kit contains 5 Gigabytles of compressed files. It has come in really useful for me and I will probably write more about it later. I was so happy with it that I wanted to dedicate a whole post to it, but I don't have time to do that right now. Whether or not it is right for you of course depends on your circumstances and what you are doing online. But if it is "right for you" (and you will probably know if and when it is) it is a real life-saver!
Okay, now on to some free sources of images.
Another source I use often is the Dreamstime Free Image Library.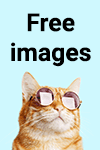 Dreamstime is a stock photography company where you can purchase images for reuse – however, they have a considerable collection of free images as well. When you sign up for an account, you are entitled to download free photos up to a certain limit.
There is an excellent search function so that you can find the image you want using the keywords of your choice, and you can also specifically search for free images.
More Free Images Sources
I owe thanks to JK from IM With Joe who helped me when I was looking for free images and gave me several of the links below. These are sources of free images – I have tried some but not all of these:
Get The Crestock Daily Free Stock Photo Here
Free Foto
Free Pixels
Stock Xchng
Photo Rack
Free Range Stock
Morgue File
Open Photo
David Niblack
Stock Vault
Every Stock Photo
A Digital Dreamer
NASA – NASA images are generally public domain.
Flickr – If you use the advanced search function on Flickr, you can search for images which have creative commons licenses, okay to use for commercial purposes, etc. Just make sure you follow the terms, and remember that not every image on Flickr carries the same license. Many of them are simply "all rights reserved."
USASearch – Not every image here can be used. But it is an excellent site for searching for images which you may be able to use. It is also good for searching for NASA images by keyword. Once you find an image you like, check the site that it comes from to see if it gives rights for use.
Free Images Combined with Affiliate Marketing
At this site you can get free images which you can add to your website – including some real old classic images which you would normally have a pretty hard time finding (with rights to use).
The way this works is that you find the image you want to add to your page, and you basically create a "banner ad" out of that image.
You can add a huge variety of images to your site this way, and they are linked to the image website. If someone happens to click on one of the images in your post and then makes a purchase from the site, you will receive a commission.
To find out more or sign up, click on this banner:
Royalty Free Music
Another source of royalty-free music which I have used and been very happy with is Incompetech. The music is categorized not just my genre, but by the "feel" (mood) of the music. This was very useful to me when I needed music for a slideshow video I was creating. There were some terms and conditions to follow (giving credit, etc.) but it was pretty simple and well worth it!
You can also find more by Googling "Royalty Free Music" but the above site is the one I personally used and was very happy with.
RSS Feed Icons
A while ago I wrote this post with links to some great sources of amazing RSS Feed icons! You've got to see these!
Tags:
Royalty Free Images for Use on Websites, Royalty Free Stock Photography, Royalty Free Images, Free Graphics, Stock Photography, Stock Photos, Free Stock Photos, Free Web Images, Free Downloadable Photographs, Royalty Free Music
Originally Published at this post.